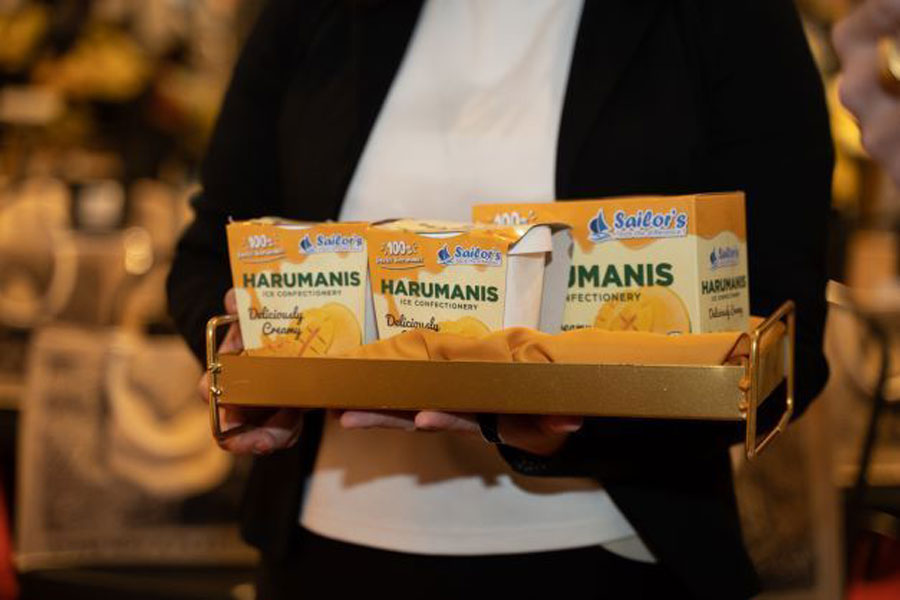 In an effort to enable customers to experience the distinct flavour of Harumanis all year round, Sailor's Gourmet Foods (SGF) has come up with a new dessert product called Harumanis Ice Confection. 
Said to be the first of its kind in Malaysia, the locally-produced frozen dessert uses real fruit bites with 60% fruit content and other natural ingredients, forgoing colouring and preservatives in favour of naturally creamy textures and fresh flavours.
The ice-cream's launch on Tuesday (June 28) was graced by the Raja Muda Perlis, Tuanku Syed Faizuddin Putra Ibni Tuanku Syed Sirajuddin Jamalullail, and the Raja Puan Muda Perlis, Tuanku Hajah Lailatul Shahreen Akashah Khalil.
SGF GM Andrew Tan said the halal-accredited food manufacturing and bakery business processor records growth of more than 40% annually. As a private company, he told The Malaysian Reserve (TMR) that SGF does not disclose their financial figures. 
Tan said the company is eyeing market expansion for its products, namely Brunei, Singapore and Thailand. It is confident that its products live up to the tagline "Taste the Difference" and can gain a foothold overseas.
The GM also told TMR that depending on consumers' reception of the Harumanis Ice Confection, the company will look into developing other frozen desserts using Harumanis.
When asked whether SGF is looking into other local fruits for new dessert products, he said pineapple would be the next on the list. 
SGF chairman Gavin Welman said the company is still a very small business that started in 2006 with sausages and cold cuts. It then moved on to pies, pasties and pizzas, and last year to Christmas cakes and a range of four dessert tarts.
"Today, we are proud to be launching our first Perlis Harumanis mango products — Sailors Harumanis Mango Ice Confection."
The Harumanis Ice Confection is exclusively available at four premium supermarket brands, Ben's Independent Grocer (B.I.G.), Village Grocer, BSC Fine Foods and Leisure Grocer under The Food Purveyor (TFP).
TFP CEO Geoff King said the group is delighted to join forces with Sailor's Gourmet Foods to promote a whole new range of desserts here at B.I.G. Showcase Publika and B.I.G. The Linc. 
"Their supreme quality of Harumanis desserts is a good match for our customers that enjoy freshest quality produce, finest curated range and are looking for sophisticated and adventurous palates in their journey of discovery." 
B.I.G. Showcase is an initiative by The Food Purveyor to support local small and medium enterprises to showcase their product stories and provide brand visibility at the B.I.G. Publika outlet. Visit https://big.com.my/ for more information about the showcase. — TMR

From : https://themalaysianreserve.com/2022/06/29/enjoy-sgfs-harumanis-ice-cream-all-year-round-at-b-i-g/