Founded in 2006, Sigma Harmony Sdn. Bhd. trading as Sailor's Gourmet Foods is a halal accredited food manufacturing and bakery business processing beef, lamb, chicken and smoked products as well as producing pastries, pizza and bread for wholesale, end-user establishments and retail to the public.
Sailor's Gourmet Foods is located in Padang Matsirat, Pulau Langkawi.
Our company's philosophy is to produce top quality products that are nutritious and great tasting, under strict hygienic conditions that conforms in every way to halal certification.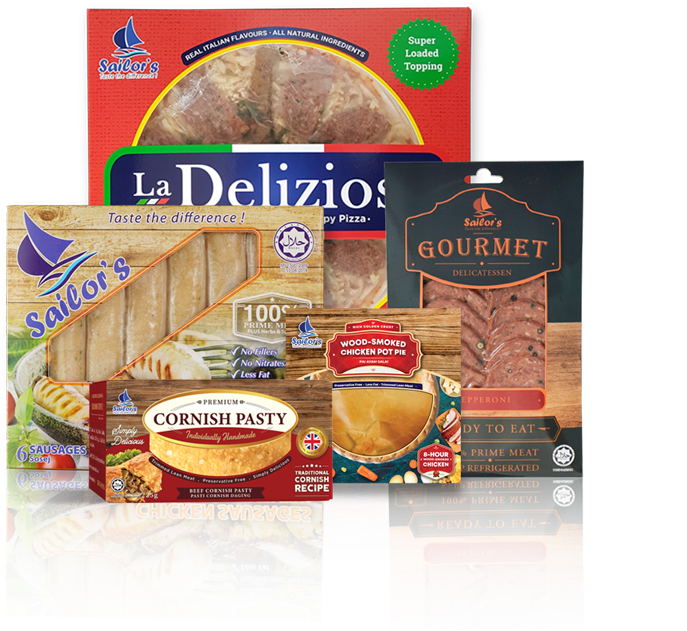 Integrity is important to us. We won't make something we ourselves are not happy with, because we know that what we put out there is not just a representation of who we are, but also of our country, where we come from.
Don and Jeanne
Founders of Sailor's Gourmet Foods
Sailor's Gourmet Foods began in the early 2000 when husband-and-wife team, Don and Jeanne Pickers, left their home country of South Africa and arrived in beautiful Langkawi in a yacht that they built.
As farm owners and game hunters, they were familiar with all kinds of meat, and knew how to prepare and cook them well. Missing and longing for a good South African "wors" or sausage, they started making their own as they had often done on the farm, as well as other South African delicacies, and began distributing them to friends and fellow "yachties". The sausages and deli items proved to be immensely popular, and before long, Don and Jeanne were running a little business selling sausages, biltong, boerewors, salamis, smoked meats and cheeses. In 2006, Sailor's Gourmet Foods was incorporated.
The business grew with increasingly more orders from visiting yachties, as well as from Langkawi's expatriate population and the island's five-star hotels and resorts. The Sailor's kitchen grew from just 3 employees to a factory of 10 full time staffers. Product offerings also grew to include yachtie favourites such as frozen pastries, pies, pizzas, breads, and other frozen foods. Sailor's became halal certified in 2009.
The great taste and quality of Sailor's products have made it a favourite among the expat communities in Langkawi, Penang, and Kuala Lumpur.
After more than 10 years, the winds picked up and Sailor's found an opportunity to expand its business. Don and Jeanne passed the wheel to a group of passionate foodies from Carrington Capital Pte. Ltd, each with more than 30 years experience in retail and consumer goods.

In 2017 Sailor's Supplies rebranded to become Sailor's Gourmet Foods.

Sailor's has big and exciting plans for increasing its market share outside of Langkawi. Currently, Sailor's Gourmet Foods is building its new, 2,000-sq ft factory to be completed in 2019. It is also looking forward to be awarded the HACCP certification in the same year.